Make a quick start with widgets
An easiest way to accept bitcoin payments is through our widgets. You can create a simple and functional payment widget and add it to your website or app following the easy steps in our widget creation Wizard.
Takes literally minutes to set up
Convenient tool for customization
Easy integration with popular CMS via plugins
Pricing in more than 30 currencies
No coding required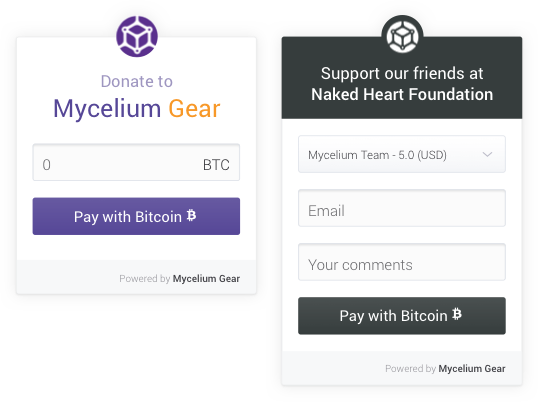 Integrate with existing solutions
Mycelium Gear payment page allows you to set up integration with existing shopping cart e-commerce solutions or your custom software just like classic fiat payment solutions.
Hosted by Mycelium Gear
Protected with trusted https certificate
Initialization through simple GET request
HTTP callbacks (webhooks)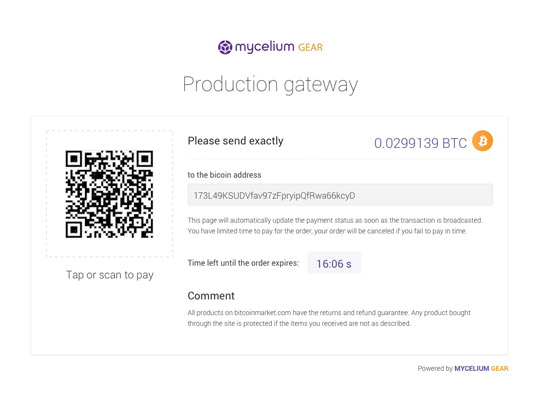 Build your app on Mycelium Gear's platform
Want to have full control of the workflow? REST-based API will help you to create a decent solution which suits best for your customers. Code examples are included.
Join over 5,000 customers that trust us
Safe and protected
Unlike other bitcoin or credit card payment processors, Mycelium Gear lets your customers send money directly into your wallet controlled by you only. You do not even temporarily entrust us the money customers pay for your products or services.
Depend no more on your payment processor policies. Mycelium Gear doesn't require merchant to complete KYC/AML procedures to start accepting bitcoin payments.
Simple and powerful
Whether you're a small online store running on Wordpress or a big online merchant with a custom built software, Gear provides you with just the right tools that you need to start accepting Bitcoin payments from simple payment widget to an expert API.
Get familiar with code usage examples and tutorials by exploring our help center.
Easy customizable
Powerful and easy to use widget Wizard allows you to have full control over widget functionality and appearance. You can change the color scheme, add custom fields and multiple products, switch between regular and donation mode which allows accepting any payment with the amount set by a user.
Diving deeper into gateway options you could configure default exchange rate providers and currency for prices, blockchain network type and many more.